The birds nesting in the trees near my bedroom window wake me up earlier than I'd like in the morning, and at night they keep me awake, singing past 2 AM. I've taken to sleeping with earplugs, but then my alarm clock doesn't wake me up. It occurred to me that there might be watches with a vibrating alarm feature, designed for people with impaired hearing. A search did turn up one, but also some less expensive Casio watches with vibrating alarms made for sportsmen. There are two current models, the PAS400B-5V and PAS410B-5V, intended for fishermen and hunters, respectively.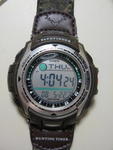 I ordered the PAS410B-5V and it arrived yesterday. I was hoping it would awaken me this morning, but I woke up well before its alarm went off, so I don't yet know whether it will be satisfactory. For the last year or so I've gotten out of the habit of wearing a watch, and I never used to wear one to bed, so it will take some getting used to.
The watch displays the phase of the moon, sunrise and sunset times (rounded to the nearest five minutes), and the times of the moon's upper, lower, east, and west transits. You have to enter your longitude, latitude, and GMT offset (time zone) for that to work. In addition to displaying that information for the current date, you can have it display them for any date from 2000 through 2039. It has five separate alarms, each of which can be set to occur every day, or on a specific day of the week. It also has a stopwatch, and allows storage of up to 40 "time memos". It is rated water resistant to 100 meters.
The backlight can be activated by pressing a button, or can optionally be configured to activate automatically when the watch is moved into a viewing angle.
As far as I can tell from the manual, the only difference between the fishing and hunting is whether the display has fish or pawprint icons.